Alright guys, seems like i haven't been keeping my promises lately. Am sooo sorry again! Well, i'm back with more for "now". Haha. My holidays will now be officially ending in a few minutes time. Life is good currently. Just got my car to bring me around few days ago, gotta thank my parents for this really! Was kinda shocked actually. No worries mommy and daddy, i'll be studying real hard this time. Hopefully i'll be able to pass my 1st year with flying colours! Haha. Sounds impossible, but i'll try. ;)



Can you spot the Fuji? Haha.

Anywaysss, back to my long time abandoned post on Japaann. Darn it, i'm missing Japan. Haha. Alright, sooo we were on the way to Mount Fuji. Next stop on the way there, we dropped by at Lake Kawaguchiko. One of the famous 5 lakes which surrounds the world famous Mount Fuji. Nice view but lunch do not really came up to our expectation. Or probably we're just not used to the japanese food.



Lake Kawaguchiko.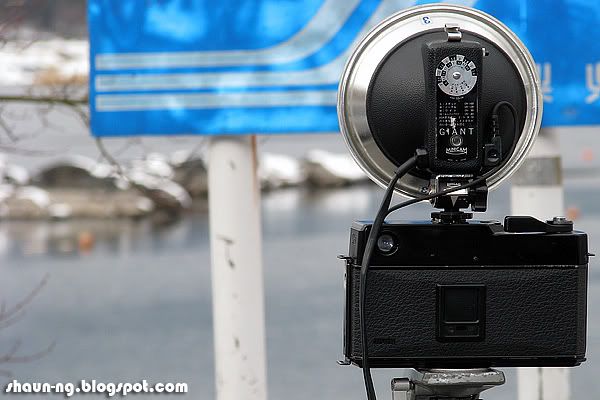 Some artistic shot i planned to do, but failed miserably. Hahaa. Nice old fashioned cam though.



View of the famous lake.



Another view. Don't you just like the snow?



Had lunch at this restaurant facing the lake, great view i'd say. Haha.



Forcefully smiled with my pathetic set of lunch. XD

Everyone was hoping it to snow on that day, but the tour guide insisted that snowing is a bad sign for tour groups as most of the expressways will be closed due to slipery roads and thus affecting the whole agenda. Stilll, as a jakun from Malaysia who has not seen snowing since birth, it's his dream to at least see it once in his life. It's me the jakun by the way. An guess whatt? Right after the lunch when we stepped out the restaurant, the sky started to turn cloudy andddd, foam-like pieces of whitish stuffs started to fell down from the sky! Darn it, i know i am lucky cos it's snowing! I shall now proudly say that this is one of the moment i wouldn't forget for the rest of my life. The experience of looking upon the snow dropping down onto your shoulder is seriously priceless.



Hey look, it's snowing!



The negative consequences of snowing. =(

Proceed our next destination after lunch, to the Fujiten Ski Resort. It took us up to 2 hours to reach that place compared with the normal 45 minutes. As i've said previously, the consequences of snowing. Hahaaa. It's worth it though.



Snow resort, cool.



Wanna go skiing?

Did not really tried out skiing on that day cos it was really crowded and the snow was really heavy. Pluss i do not even know how to stand on my own feet after falling down. Sad case man. Anyways, it was a good experience even to see people skiing around you. Hahaa.



Snowboard.

Managed to captured a few shots of the Japanese kids when i was wandering around the area. Kinda like their cute expression. Do i sound lifeless, to take pictures instead of skiing in the snow resort? Hahaaa.



Cute little kiddie couple. They seriously kissed in front of both deir parents. I was shocked. O.o



Don't you just feeling squeezing her? Haha.

We started our journey back to hotel for dinner at around 6 later on. Another unique experience as well. Find it out on my next post alright guys? Till thenn, have a nice day. And best of luck for my studies again. T.T Life sucks. Hahaa. Ciowz.