Holiday's soon to be over, and i guess i've had enough rest and fun. I'm still at KL though, will be back to Sungai Petani on this coming Sunday. Anyway, i guess it's time for me to catch up with blogging again? Sorry guys for being away for so long.

Alright, here comes my post on the extremely outdated Penang trip II. =]

---

It was the night when we came back from the first Penang trip, my housemate suddenly suggested that we should go down to Penang once again to fill up the time of our going-to-be-a-damned-boring weekend. So after much planning and consideration, we agreed. This time, we went there car-less, wanting to try out the Penang Island purely just on public transport. We even brought together maps of Penang Island and printed copies of Rapid Penang bus routes.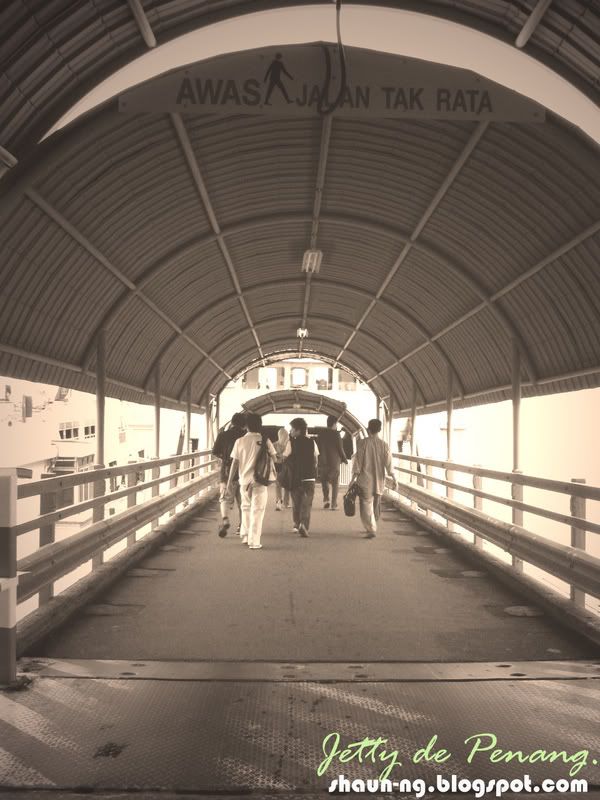 Our journey started at around 9am, where we called up 2 taxis to carry our asses from the campus to the bus station. From the bus station, we climbed onto the shuttle bus which takes approximately 45 minutes to reach the Butterworth Jetty. Upon reaching the jetty, we took the ferry to bring us across the straits to the island of Penang. It is here where our journey begins.




Note the misty hills of Penang behind the pictures. Too bad i haven't got a wide lens to capture each and every bit of em' down into a picture. Anyway, it only takes about 20 minutes to cross the strait. Immediately once touching down, we took out the maps and started discussing on the our first stop of the day. If you were wondering how do we looked like on that day, i can tell you that we freaking look like a tourist from the West, each of us had our big backpacks on, cameras hanging around the necks and hands full with maps. =.=




After a while, we decided that it will be Seoul Garden that will be our first stop of the day. We took the feeder bus up from Weld Quay Jetty to Gurney Plaza. Well, guess you'll be wondering what Seoul Garden is? It's is an authentic Korean-styled BBQ restaurant that offers diners with a unique self-serving dining experience. They serves authentic & intense meat-marinates, large spread of fresh buffet items and their freshest produce, all in a no-frill, bright and hygienic ambient while they soaked in a vibrant yet noisy atmosphere. Seriously, if you are thinking of BBQ steamboat buffet, i'll high recommend you Seoul Garden.



The best thing is that they actually have special discounted prices for students. All you need to do is only to present your student ID upon making your payment, then you will be entitled to only RM16.99++, and it comes with free flow of drinks.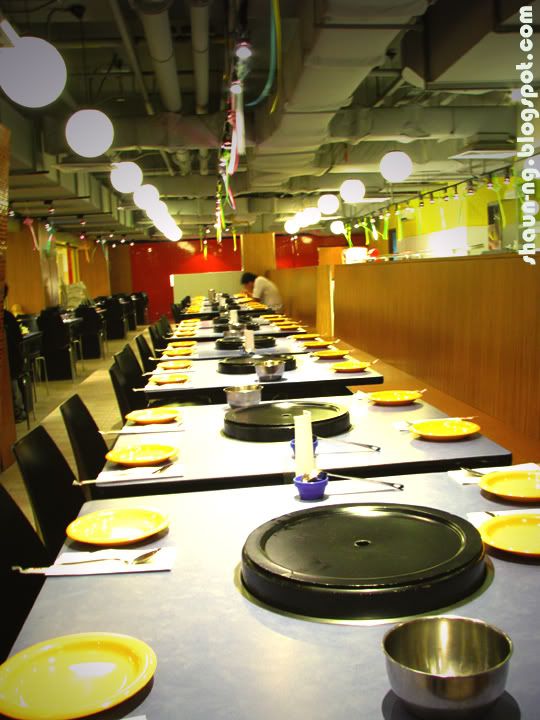 The interior of the restaurant, it's so much more hygienic compared to other steamboat buffet outlets out there. With the cozy lightnings and great varities of food, Seoul Garden will definitely make a good place for gatherings among friends and families. This time it was a gathering with my current batchmates.




This is the alley where they serve all kinds of raw foods. Marinated beefs and poultry, seafoods, manufactured seafood products, vegetables, drinks, desserts etc.




Raw foods we took which is ready to be thrown onto the hotplates.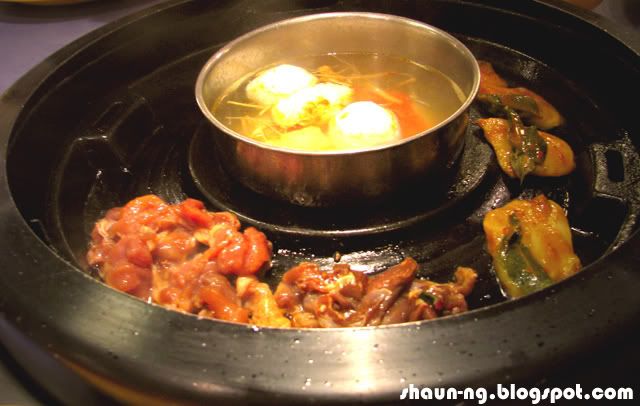 This is how the steamboat hotplate buffet works. There's a bowl of soup base in the centre surrounded by sizzling hot hotplates. If you'd like the food to be eaten wet, just throw them into the bowl of soup, wait a few minutes until you see them float on the surface, then it's ready to be eaten. If you'd like to eat it dry, throw them onto the hotplates, turn it every 30 seconds, until you see the colour changes, then it's ready to be consumed. A great experience for people who doesn't know how to cook and to eat what they've cooked. Haha.

We've had 4kg of prawns there i think. Thanks to Ah Pa (Eng Teck) who suggested us to peel the skin off the prawns and fry it with eggs on the hotplates. It tasted so good that each time they top up the prawns, we took all of em'. Friggin consumed alot of cholestrol that day man. Haha.




Roomies forever! (Ke Wei on the top, me on the left and Kenny on the right, Zai Yi is missing from this photo tho.) Anyway, we've had a great time there. Great food, funny friends and pleasant atmosphere. Well, i guess that's all for now, this is only part of the trip on our first day. More to come up soon. Stay with me ya. Heh. =]


*Wanna see more on Seoul Garden? Drop by to this site :-
http://forum.myfoodchannel.com/viewtopic.php?t=469